Every good and perfect gift is from above,
coming down from the Father of the heavenly lights,
who does not change like shifting shadows.

- James 1:17



by Birgit Barandica Eichberger

I am fascinated by the gift God gave us here!
Look at the 2 following photos: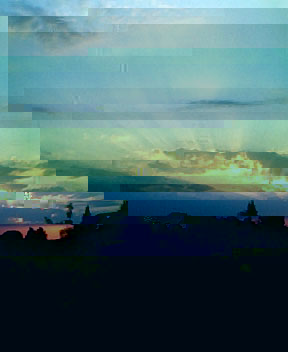 Both photos © June 26, 2006, Birgit Barandica Eichberger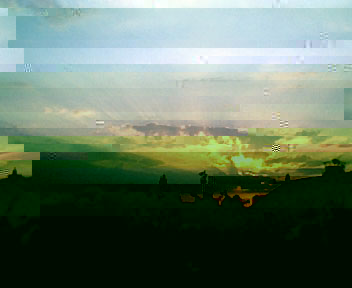 "I am the light of the world," says Jesus. "Whoever follows me will never walk in darkness,
but will have the light of life." (John 8,12).
When I saw this fantastic sunset from our balcony, I had to think of Jesus' statements such as this one above. I was simply fascinated! Yet as fantastic as the photos here are, the reality was even more beautiful: it was like shining gold, a shining brilliance, so close I thought I could touch it. Heaven's gate a little bit open! The streets of gold in the new Jerusalem came to my mind.
And something else also came to my mind: for quite some time already I have this question of how it can be that everyone will be aware at the same time when Jesus comes back. When I saw this sunset, all of a sudden I knew: This is it! It will be somewhat like this - just much more fantastic!
| | |
| --- | --- |
| Regardless of how good our fantasy to imagine His coming back... in thoughts, in paintings... our mind is simply not made to grasp this. But it will be wonderful - of this I am certain! With paintings like this one here to the right or with photos and thoughts like mentioned above, God is giving us glimpses, little impressions of how it will be. The result for me is that I am yearning more and more for Him to come back! | |