Rick Warren Defends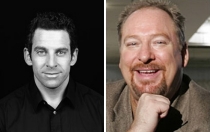 God against Atheist Challenger
Michelle Vu/TN, Breaking Christian News BCN, April 5, 2007

"He's betting his life that he's right. I'm betting my life that Jesus was not a liar..."


According to a Christian Post report, Pastor Rick Warren defended the existence of God against the intellectual probe of bestselling atheist author Sam Harris in the latest issue of Newsweek which covered the four-hour long symposium moderated by Newsweek editor Jon Meacham. (Photo: Getty Images for Newsweek/Charles Ommanney)

Harris reportedly challenged Warren with a number of conventional arguments in the April 9th issue including the Bible's Old Testament morality, evil done in the name of Christianity, unanswered prayers, and scientific proof of evolution.

During the discussion, reporter Michelle Vu noted that the atheist advocate used the term "spirit" but said he is unsure if there is an eternal soul although he approves of "spiritual activities such as meditating and contemplating the mystery of the universe and the power of love."

"Can you have spirituality without a spirit?" countered Warren.

Warren also was quoted as saying Christianity's benefits to the world far outweighed its evil deeds, noting that it was Christians who helped abolished slavery, achieve women's suffrage, lead the civil-rights movement, and drafted the Bill of Rights.

"We're both betting," concluded Warren. "He's betting his life that he's right. I'm betting my life that Jesus was not a liar. When we die, if he's right, I've lost nothing. If I'm right, he's lost everything. I'm not willing to make that gamble."

Source: The Christian Post

[The full interview can be read here]