Evel Knievel's Salvation Testimony Spurs Spontaneous Baptisms at Crystal Cathedral - 500 to 800 Commitments & Rededications on Palm Sunday
by Brad A. Greenberg/AH, Breaking Christian News, April 19, 2007

"I just got on my knees and prayed that God would put His arms around me and never, ever, ever let me go."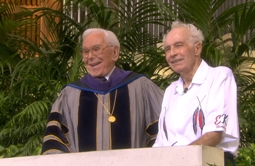 (Foto Chrystal Cathedral)
One man's life touches so many others. We've heard that message conveyed countless times, from the movie, It's a Wonderful Life, to messages from the pulpit. And yet it's still a wonder when you see God change one heart which, in turn, affects hundreds of others.

That probably wasn't even a passing thought this past March, however, when the Lord suddenly broke into the life of famous motorcycle daredevil, Robert "Evel" Knievel. He knew that there were Believers who were actively praying for his salvation—he cites his daughter, ex-wife and their churches, along with the "hundreds" of letters Knievel had received urging him to trust God—but for 68 years, he had resisted calling on Jesus Christ as Savior.

According to an article in Christianity Today, (CT) sometime during Daytona Bike Week last month, Knievel's resistance finally gave way to belief. "I don't know what in the world happened. I don't know if it was the power of the prayer or God himself, but...the power of God in Jesus just grabbed me. All of a sudden, I just believed in Jesus Christ. I did, I believed in him! ...I rose up in bed and, I was by myself, and I said, 'Devil, you...get away from me. I cast you out of my life.' I just got on my knees and prayed that God would put His arms around me and never, ever, ever let me go." (Photo: Rev. Robert H. Schuller with Knievel on Palm Sunday—Courtesy of Crystal Cathedral)

One thing apparently led to another, and after a visit by Rev. Robert Schuller, who baptized Knievel, he eventually found himself giving his testimony at the Crystal Cathedral on Palm Sunday.

According to the CT report, Rev. Schuller (who took over last year for his retired father) could see from the people's reactions to Knievel's testimony that this would be no ordinary service. Deviating from the normal script, and transition into the offering, Schuller went up front and said, "I believe there is somebody who needs to be baptized here. Maybe up on that balcony or by that door or by that wall. So come forward." (Photo: Knievel is baptized—courtesy of Crystal Cathedral)

Then Schuller, with the help of four other pastors and a "candy dish" of water, walked from person to person who had moved to the front, crying while baptizing them and going on to the next one. The spontaneous response went on for 30 minutes, and then continued in the next service. In all, between 500 to 800 people were estimated to have made first time, or recommitments to the Lord.

After undergoing some difficult times of late, the church had reportedly been praying for the congregation and the community, though not necessarily for revival. Schuller candidly adds, "Our congregation and church keeps saying, 'Okay, where do we go from here?' I'm not exactly sure. But I think the Holy Spirit will assist me in the doing the right thing."

The Palm Sunday service, featuring Evel Knievel's testimony and the mass baptisms, will be re-aired this week, on April 22nd.


To read the full CT article, follow the link below.
Source: Christianity Today