Law, Conscience And Christ
by Herbert Ruffer
translated by Birgit B. Eichberger

In the book of Galatians we see Paul fighting a passionate battle of truth of the gospel, standing determinedly up in favor of justice because of faith alone. He knows that if it is about justice before God, then the law has to be ignored and the gospel has to be believed in.
He writes:
"We who are Jews by birthand not 'Gentile sinners `know that man is not justified by observing the law, but by faith in Jesus Christ. So we, too, have put our faith in Jesus Christ that we may be justified by faith in Christ and not by ovserving the law, because by observing the law no-one will be justified.
If, while we seek to be justified in Christ, it becomes evident that we ourselves are sinners, does that mean that Christ promotes sin? Absolutely not! If I rebuild what I destroyed, I prove that I am a law-breaker. For through the law I died to the law so that I might live for God. I have been crucified with Christ and I no longer live, but Christ lives in me. The life I live in the body, I live by faith in the son of God, who loved me and gave himself for me. I do not set aside the grace of God, for it righteousness could be gained through the law, Christ died for nothing!" (Galatians 2:15-21)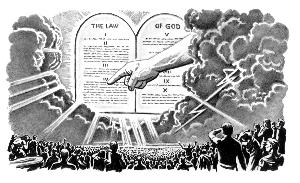 The purpose of law and conscience


The demands of the law keep and will be keeping their validity for jews as well as for gentiles (believers and non-believers).


Jesus did not come to abolish the Law or the Prophets; "I have not come to abolish them, but to fulfill them", He says (Matthews 5:17).


Therefore, it's only fair for us people to observe the law, trying to fulfill it. If we don't fulfill it, then punishment will impend.


It is also true for gentiles "since they show that the requirements of the law are written on their hearts, their consciences also bearing witness, and their thoughts now accusing, now even defending them" (Romans 2:15).


Our conscience is perfectly aware of the impossibility for people to fulfill the law.


Deuteronomy 27,26: "Cursed is the man who does not uphold the words of this law by carrying them out."


Law and conscience are having the same task; convicting us of our sin and accusing us where we are guilty.


In some way, law and conscience minister toward sin. Paul explains it like this:


"... through the law we become conscious of sin" (Romans 3:20 and 7:7), "... for before th law was given, sin was in the world. But sin is not taken into account when there is no law" (Romans 5:13).


By means of the law, sin became more and more powerful (Romans 5:20 and 7:7). "The sting of death is sin and the power of sin is the law" (1 Corinthians 15:56). "Indeed I would not have known what sin was except through the law. For I would not have known what coveting really was if the law had not said, 'Do not covet'" (Romans 7:7).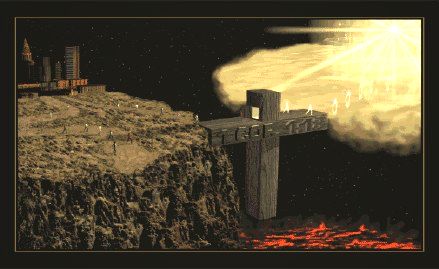 Not so with Christ: He is no legislator, nor is He a sherif or a judge or an executer, but He is "... the Lamb of God, who takes away the sin of the world!" (John 1:29)


If sin was taken away then also my sin was taken away. Then also God's rage and every condamnation will be taken away.


"Therefore, there is now no condemmnation for those who are in Christ Jesus" (Romans 8:1).


"Who will bring any charge against those whom God has chosen? It is God who justifies. Who is he that condemns? Christ Jesus, who died - more than that, who was riased to life - is at the right hand of God and is also interceding for us" (Romans 8:33+34).


Christ is not ministering toward law or conscience, thus ministering toward sin (He is no "servant of sin"), but ministering toward grace, toward faith and toward justifiation before God.

The law and our conscience keep us away from God. But Christ reconciles us with Him.


Nor law nor conscience make us righteous


Only the gospel can make us righteous before God. For this purpose, we only have to believe it, to have faith in it, nothing else.


Even if we were free of charge or not aware of any guilt, Paul's words in 1 Corinthians 4:4 are applicable: "My conscience is clear, but that does make me innocent. It is the Lord who judges me."


This is the core meaning of Paul's statement: "... know that a man is not justified by observing the law, but by faith in Jesus Christ" (Galatians 2:16).


So then, why sould I rebuild what Christ has destroyed through the gospel, like sin, heavy conscience and condamnation? Why should I re-erect the law that He has put away, only for my conscience not to be afflicted any longer?


If it were not like this ...


... and if man could do all possible good deeds in order to be pleasent before God and gain His approval and be righteous before Him; and if man then, after receiving God's righteousness, could go on with all his good deeds until finally receiving all rights for eternal life as his wage, what kind of need would there be for Christ's death and God's grace? Christ would be meaningless and nobody would be in need for His mercifulness.


But "by observing the law, no-one ewill be justified" (Galatians 2:16).


Scripture testifies, "that whoever believes in him shall not perish but have eternal life" (John 3:16).


And verse 18, "Whoever believes in him is not condemned."


John 3:36: "Whoever believes in the Son has eternal life, but whoever rejects the Son, will not see life, for God's wrath remains on him."


John 5:24: "... whoever hears my word and believes him who sent me has eternal life and will not be condemned; he has crossed over from death to life."


Paul sums it all up using different words and says, "The law claimed my life. It has received it through Christ. Thus I died to the law. Case settled. Yet I live! But this is not quite correct. Christ lives in me! And whatever I might live in the body, I live by faith in the Son of God who loved me and who gave Himself for me. I won't throw God's grace away; for if righteousness would come by the law, then Christ would have died a meaningless death."