Evangelization Reminder
German Website for evangelization tools, E-fun-gelisation, September 10, 2007
translated by Birgit Barandica Eichberger

Suppose you would have worked in an office somewhere in the World Trade Center and on September 10, you would have known about a planned attack... what would have been your reaction?

I guess you would have done your job just as every day. And you would have wondered what would happen next day...

But you probably wouldn't have told others who work together with you. You would have felt ashamed. Probably because of fear. You wouldn't want people to think you are a gloomy predictor. And you'd fear to be ridiculed. You'd even fear they would not believe you. And so you would have returned home just like every day.

And then the next day, you'd know you're not to go to work. You'd switch on your TV set and see all those horrific pictures. Then suddenly, someone would knock at your door. You'd open and find a police officer asking, "Did you know it would happen?"

...you'd be in deep trouble.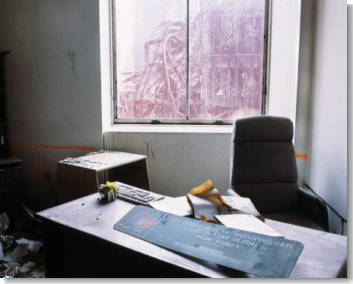 Inside an office next to Ground Zero, few days after 9/11

We have a message warning us of something even much more dreadful than what had happened at WTC. Thanks to this message people can flee the last judgement and gain eternal life.

And it is much more important and of much greater significance than this police-fiction, that one day, we will have to render account before God.

You are in possession of the truth. You are in possession of the Good News. Heaven and hell are at stake. Whatever you are doing in your church is of eternal significance.

The way you are working into the lives of other people, is very important. And it is vital for them to one day understand the core of the gospel for their own personal lives.

Challenging People:


"I'd very much like to spend eternity together with you. Wanna come along with me?" ,
"Living without Jesus is getting lost".
"Only those living with Jesus will be saved".

Are we allowed to say such sentences? The way I understand the Bible, I cannot draw any other conclusion: only Jesus saves! The first step is always the most difficult one. Not everybody will be pleased, yet many others will be happy to at last be able talk about things. You can tell them about your own faith which might not always be easy. But the Holy Spirit encourages you and gives you the necessary love for this neighbor of yours!