True Happiness
Caused By Baptism!

Meet Grace & Lyell Bishop -
real battlers but rich in God
sent in by Jeannie Schultz, with courtesy of the involved.

Loveable Grace & Lyell from Tasmania, Australia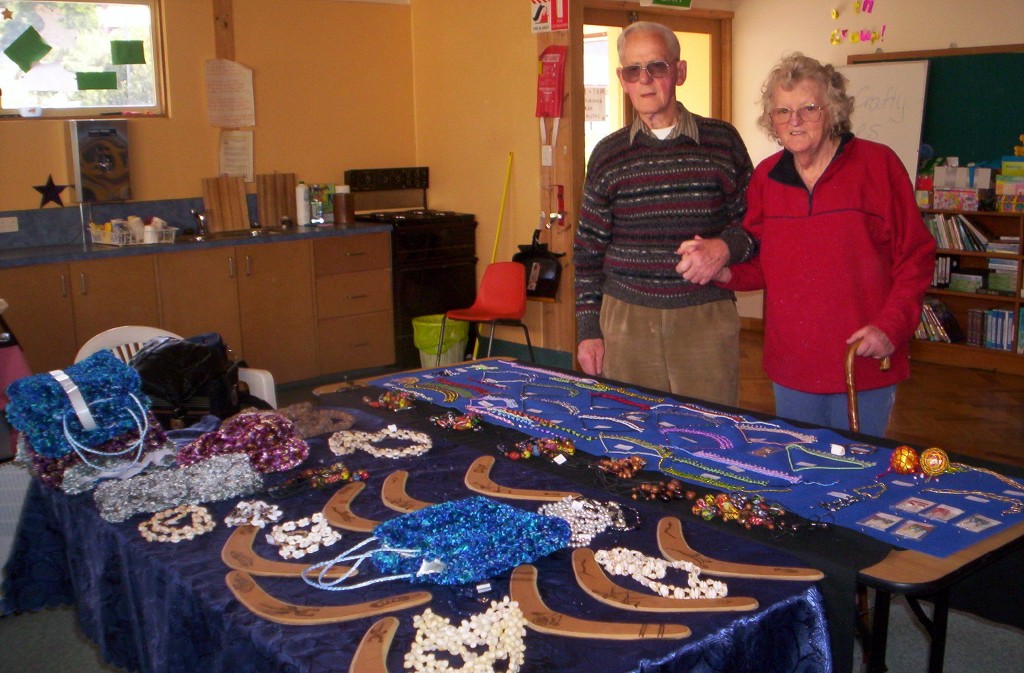 Grace is on in prayer list of our Prayer Room. God healed Lyell of Prostrate Cancer not long after he became a Christian. They are standing in front of the jewellery they have made. Jeannie, our prayer team friend, taught both of them how to make them just after she met them and now they hold stalls to sell them. Aren't they gorgeous! These two are very dedicated prayer warriors.


Grace & Lyell just after their baptism recently.
What a joy to look at their resplendent faces!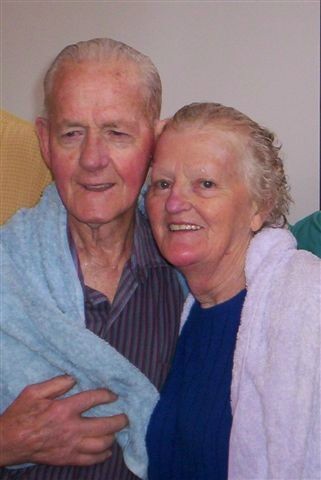 Lyell's baptism - a happy new creation coming out of the water!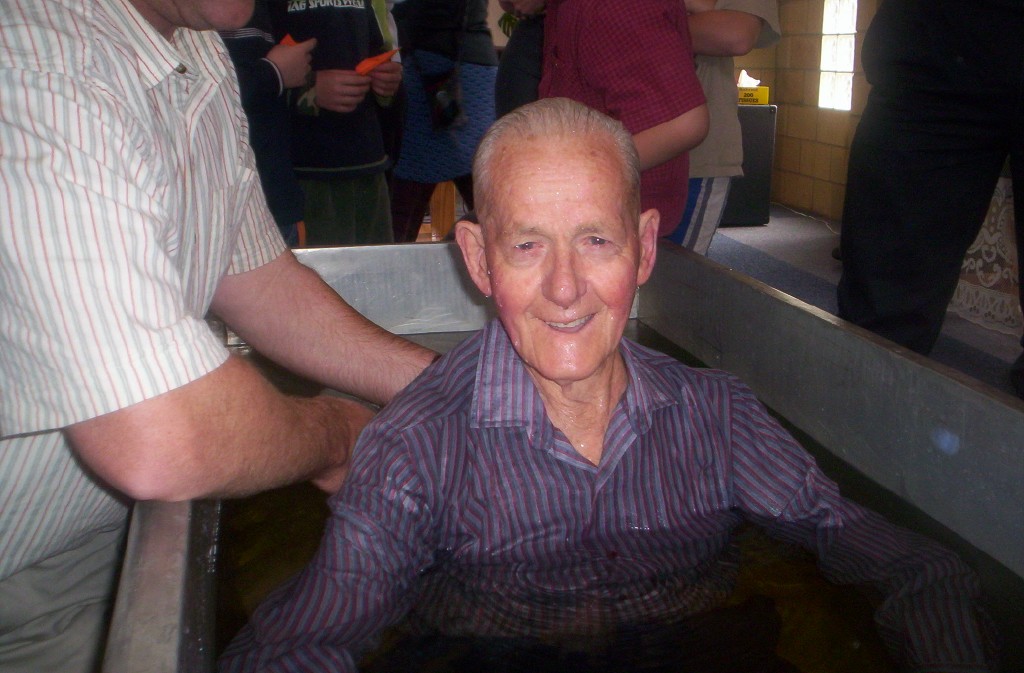 What a happy man! God is so good! Their new granddaughter was born just after they were baptised - two blessings for the day!!!

Let's "listen" as Grace tells her amazing story:
I came from a poor family of 6 girls and realize now why our Mother was ever so strict. There were always jobs to do or Mum would invent some, so I guess the word BORED never was uttered in our house.

Dad was a fisherman but caught as many colds as fish. To start the day after porridge was cooked, we all sat at the table where our newspaper tablecloth was spread, and we all said Grace before we ate. After that we dare not speak at the table until we had finished our porridge or bread and dripping. Then when nobody was speaking, we had to say to Mum, "May I be excused please?" Every Sunday we had to go to Sunday School, so we'd put on our best home-made dress and of course in those days nobody would enter our little Methodist Church without wearing a hat.

I always wanted to be a Filmstar-singer so I made sure I'd remember words of Hymns and of course our little text which we were given to learn for next Sunday. When old enough to work for money, I became a telephonist at the Main Trunk exchange in Hobart, so I thought shift work and money was more important than church.

I married at 21 years. Had a marvelous husband, then 2 boys and 2 girls. My husband was a workaholic, just never took a break. At 45 years he inevitably had a massive heart attack at home and although my kids and I were like brothers and sisters, my family just fell apart. Today I realize it was all the old devil's work. I kept myself busy with community work vowing to never remarry thinking I would never meet anyone as nice as my late husband.

Ten years passed and I was blessed again and haven't regretted marrying a wonderful man for the past 16 years. We shifted to a place called Cygnet and rented a nice little cottage. I do lots of craft work, knitting, beading, calligraphy, make boomerangs and Aboriginal necklaces and have published a 120 page cookery book which is in demand around here.

Each year in Cygnet the Cygnet Folk Festival is held. It comprises of musicians, dancers, markets etc. This Festival draws crowds from not only Tasmania but many states of Australia. In January 2005, I had a little stall of various items hoping to get a bit richer. I certainly did, but not from money! I didn't realize at the time that my little stall was very near to a Pentecostal Church. I just sat in awe listening to the beautiful singing of Hymns and the clapping of hands. It was really so awesome, joyful and so fulfilling that I, when I arrived home, told my husband Lyell that I was going to church the next Sunday. I told him what I heard and he said he did not mind me going, but said he knew what he believed.

I absolutely loved the service the following Sunday. I was surprised when my husband queried whether I had been drinking alcohol as he said I was slurring my words. I guess I had the Holy Spirit in me.
Some of my newly made lady friends asked me if it were possible to bring one of Lyell's handkerchiefs to church with me to enable them to pray over it asking God to lead him to church.

Getting ready for church the next Sunday Lyell said he would like to go with me (Praise God), but added if he didn't like it, he wouldn't go again. He hasn't missed going since and has not only loved church, but has met so many loving people.

Unfortunately, Lyell got prostrate cancer and his specialist told him he had 3 choices to think about, which were surgery, chemo or hormone therapy. We always did a lot of praying as we know God listens to us all (Dr. GOD and Dr. JESUS). A visiting Pastor called Anthony who conducted church in July and after asking us all to bow our heads in prayer, walked around the congregation talking to God. As he came past us, he touched my husband on the shoulder and told him to go out front with him as God said he needed healing. He prayed to God and asked Him to please heal Lyell. I was surprised when I saw my husband out front lying on the floor as he is a shy type of man and always said he would never go out front for prayer. He had to visit the specialist at 11.15 am on 28th July. The Dr. told him he didn't want to see him again as there was nothing wrong with him. I told him it was prayer. Praise God!

We were both baptized in the Huon Valley Christian Life Centre in Cygnet on the 4th of December 2005 and were blessed with a beautiful granddaughter approximately the same time as our baptism. GOD IS GREAT!!! God had planned for us to shift to Cygnet to make our lives so complete!